Do you find it quite challenging to find a premium after-market heavy-duty truck radiator? Dolphin Heat Exchanger USA, INC makes it a simple task. Do not risk the health of your truck's engine because you can get our cooling solutions easily at dolphinradiator.com. We manufacture, supply, and distribute various types of after-market radiators, and we have just the one for your heavy-duty truck.

Dolphin Group has been in the business of manufacturing heavy-duty truck radiators for over 35 years; making us very experienced and a leading supplier of truck radiators throughout north and south America.
Heavy Duty Truck Radiators
An aftermarket heavy-duty truck radiator applies the functional mechanisms of a heat exchanger. It conducts heat from the coolant that circulates in the hot engine block and transfers it to the cool outside air blown in from the fan. The fresh air cools down the temperature of the coolant as it circles back to the engine.
Our brands of radiators are designed to endure harsh climatic conditions for heavy-duty trucks that travel long distances across borders. This characteristic is attributed to the unwavering suitability indexing in committing the radiators to strict product validation procedures, including thermal cycling tests. The test gives us a simulation result on the thermal expansion and exact operating conditions of the radiator.
Such a test procedure ensures we deliver 100% leak-proof radiators that can survive the environmental and climatic changes in our market margins.
Characteristics of the aftermarket heavy-duty truck radiators
Reliability
With 100% leak-tested, you are guaranteed a high-quality aftermarket heavy-duty truck radiator. The headers of the radiators are also fixed with reinforcement of a stiffening plate to seal off any leaks between the tubes, tank, and header. The reinforcement also guarantees the durability of the radiator.


High efficiency
Aftermarket heavy duty truck radiators have very efficient core designs that facilitate the truck's cooling system. Aluminum heavy-duty radiators also improve efficiency because of their lightweight that improves heat exchange between the fluids.


Stress relief cuts
These radiators are retrofitted with cuts on the header to reduce some stress that might compromise the working conditions of the engine when it's under duress.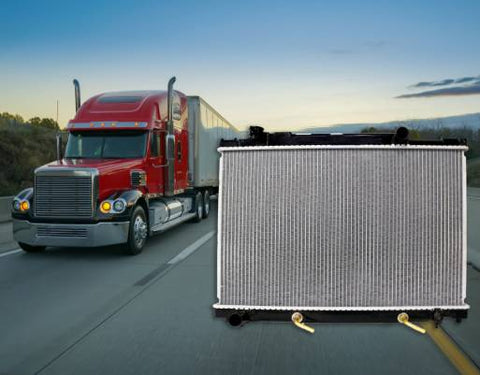 Products
Dolphin boasts a diverse range of products manufactured using top-of-the-shelf materials and through a high-tech manufacturing process. We have a wide range of high-quality and top-performance aftermarket radiators for a versatile range of trucks and vehicles.
Why Choosing Us?
Dolphin Heat Exchanger USA INC brings at your disposable reliable services from manufacturing to supply and distribution. Visit our shop and enjoy some of the following benefits:
Competitive prices
We have high standards of heavy-duty truck radiators with relatively within-market-range prices compared to the cost of the conventional heavy-duty truck radiators.


Design quality
The quality of our designs is proof of the high-grade quality material and tooling we incorporate in manufacturing. The result is a product with a fit application margin with considerable longevity.


Packaging and delivery
Process that order and receive your radiator packaged in perfect condition and delivered appropriately.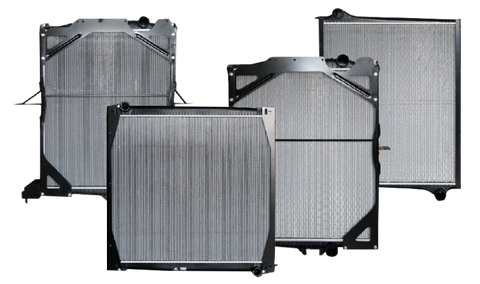 Get a quick and permanent fix for all your heavy-duty truck radiator problems all in one package at Dolphin Heat Exchanger USA INC.
For top-performing aftermarket heavy duty truck radiators, do not hesitate to dial our number or contact us through our email, us.office@dolphinradiator.com. Your satisfaction is our priority.

Are you going to keep spending your money on mending your truck's radiator when you have a permanent solution at your disposal? Reach out to Dolphin Heat Exchanger USA INC and get high-quality heavy duty truck radiators with just one call.