Have you been searching for a proven supplier that can provide you with a suitable heavy truck aftermarket radiator? Then look no further, as you've now found the experts at Dolphin Heat Exchanger USA, INC, We're proud to be the first-choice supplier of quality heavy truck radiators for all top American truck brands.

Our team work closely with all customers to make sure that they receive a flawless product. Visit dolphinradiator.com to browse our extensive selection of cooling solutions or reach out now by emailing us at us.office@dolphinradiator.com. to learn more about bulk order options.


The Go-To Supplier of Heavy Truck Aftermarket Radiators
Here at Dolphin, we're delighted to deliver the best heavy truck aftermarket radiators on the market. Our staff is confident in being able to fulfil the needs of all heavy truck vehicle owners and ensure that they end up with a high-performance radiator. You can expect our team to work with you closely as they deliver a radiator that meets expectations and leaves you wholly satisfied. It is our aim to deliver our clients with a long-lasting radiator that is highly functional and works flawlessly even in challenging working conditions.
Our highly skilled team has been supplying
heavy truck radiators
for many years, and over time, has built up an impressive reputation in the industry. We make sure that every member of our team is thoroughly trained and kept up to date concerning advancements in the heavy truck radiator industry. We're confident in being able to provide all heavy truck owners with useful purchasing advice. Read on to learn more about the excellent selection of heavy truck radiators that we offer.
Our Heavy Truck Aftermarket Radiators
It is essential for heavy truck owners to have a high-quality aftermarket radiator fitted into their vehicles. This piece of equipment will prevent your truck's engine from overheating and ensure that it continues to function smoothly. At Dolphin, we're delighted to stock a wide range of vehicle radiators that are suitable for heavy trucks. When you choose one of our heavy truck radiators, you can expect to enjoy:

High-Performance product
Long-lasting radiators
Enhanced engine protection
Stellar customer support cost-effective solutions
Learn more about the benefits of our heavy truck
aftermarket radiators
by reaching out to our experts today.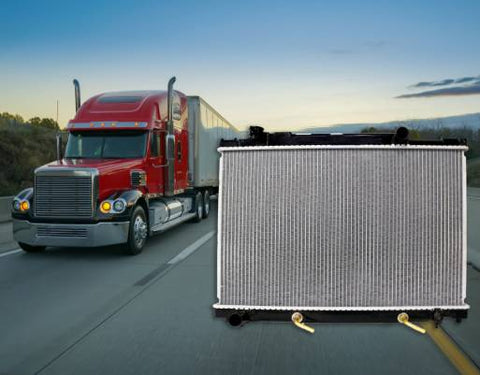 Products
With Dolphin, you can find a variety of products that are made using top-shelf materials, as well as with a high-tech manufacturing process. No matter what type of vehicle you have, we can provide you with a radiator that works well. Dolphin promises to are cost-effective and high-performing.
Why Come to Us for a Heavy Truck Aftermarket Radiator?
We at Dolphin have been for many years, and over time, have built up an excellent reputation as a reliable supplier of heavy truck radiators. Our staff go the extra mile at every opportunity to ensure that clients are left wholly satisfied with the heavy truck radiators that we deliver. It's because of this first-class service and impressive history of local success that clients continue to choose us for a heavy truck radiator.

Our team takes the quality of our products very seriously, which is why we quality check each and every one of our heavy truck radiators rigorously. We want to make sure that customers are receiving a radiator that will last for a long time. The heavy truck aftermarket radiators that we supply have been put together using metals of the highest quality. It is because of the quality of our heavy truck radiators, along with our staff's commitment to delivering exceptional equipment, that we remain the first-choice supplier for heavy truck aftermarket radiators.
Contact Us Today
If you'd like to get started with one of our heavy truck aftermarket radiators, be sure to browse our catalog at dolphinradiator.com today! We're always willing to discuss our selection of heavy truck radiators at length, so be sure to reach out if you have any specific queries.

Email your questions to us.office@dolphinradiator.com. or complete our online contact form, and we'll get back to you as soon as possible. For bulk orders, you can call us on +1 (844) 536-5744. Our staff will be happy to provide further information concerning bulk ordering and more.