When looking to purchase a new aftermarket radiator, it's essential to have an idea of what models are available and which brands are reliable. There are many proven brands that deliver quality aftermarket vehicle radiators, all of which are stocked by us at Dolphin Heat Exchanger USA.

We want our customers to have the information necessary to make a calculated purchasing decision on their new aftermarket radiators. As such, we've put together a list of the top ten brands that we deliver aftermarket radiators.
10. Western Star
Located in Oregon, Western Star Truck Sales, Inc is a manufacturer of American trucks. Western Star manufactures heavy-duty trucks that can be tailored to customer specifications, including highway and off-road models.
9. Komatsu
Komatsu, one of the world's leading manufacturers of construction, mining, forestry, and military equipment, was founded over a century ago in Komatsu City, Ishikawa Prefecture, Japan. They also design and manufacture high-quality industrial equipment and diesel engines. Dolphin aftermarket radiators for Komatsu are a top seller.
8. Ford
The Ford Motor Company is an American multinational automobile company located in Dearborn, Michigan, US. Ford was founded by Henry Ford in 1903 and began making trucks in 1908 with the Ford Model TT. For much of the decades from the 1940s to the 1970s, Ford's F series served as the basis for light vehicles in North America.
7. GMC
GMC is a division of American automaker General Motors that primarily produces trucks and utility vehicles. GMC currently manufactures SUVs, pick-up trucks, vans, and light trucks. Previously, GMC also produced fire trucks, ambulances, heavy-duty trucks, military vehicles, motorhomes, transit buses, and medium-duty trucks.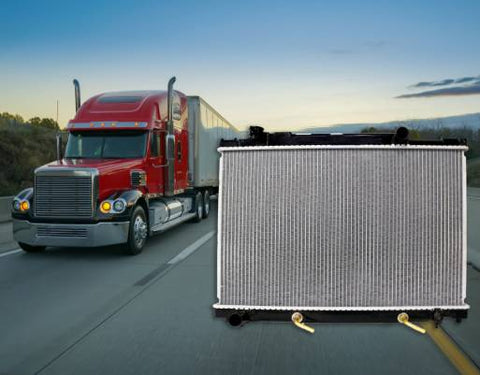 6. Volvo
Swedish truck manufacturer Volvo Trucks Corporation is the world's second-largest producer of heavy-duty trucks. Its headquarters is in Gothenburg, Sweden. It produces and sells over 190,000 vehicles annually and employs more than 52,000 people worldwide. Volvo Trucks manufactured its first truck in 1928.
5. Kenworth
Kenworth, founded in 1923, is an American truck company. It manufactures heavy-duty and medium-duty trucks. Kenworth, a wholly-owned subsidiary of PACCAR since 1945, is headquartered in Washington, Seattle. Kenworth has been producing the W900 continuously since 1961, making it one of the longest-running trucks in automobile history.
Products:
With Dolphin, you can find a variety of products that are made using top-shelf materials, as well as with a high-tech manufacturing process. No matter what type of vehicle you have, we can provide you with a radiator that works well. Dolphin promises to are cost-effective and high-performing.
4. Hino
Hino has built up a reputation and is now one of the most popular manufacturers of commercial vehicles in Japan. , Dolphin manufactures high-quality aftermarket radiators for Hino Trucks.
3. Mack
Mack has been designing and manufacturing trucks of the highest quality for many years. What's more, Dolphin also produces highly functional aftermarket radiators that are wholly suitable for Mack trucks.
2. Freightliner
Founded in 1929, Freightliner Trucks is an American truck manufacturer that produces a range of vans, medium-duty trucks, and heavy-duty trucks. With headquarters in Portland, Oregon, Freightliner currently manufactures vehicles in North Carolina and Mexico and boasts 12 types of trucks. You will find a large range of Freightliner radiators here.
1. International
International Trucks was founded in 1902 and is a major manufacturer of medium-duty, heavy-duty and severe-service trucks with products sold throughout the United States, Canada, Brazil and Mexico. International (also known as Navistar International) has more than 60 dealers in 90 countries and employs over 13,000 people worldwide.
Contact Us:
If you're interested in any of the aftermarket radiator brands listed above and would like to learn more, reach out to us at Dolphin Heat Exchanger USA, INC today! Our experts will be more than happy to answer any questions that you have about our radiators as they provide you with all the required information.

You can reach out to one of our aftermarket radiator experts directly by emailing your questions to us.office@dolphinradiator.com, where we'll reply promptly. For bulk orders, call us on +1 (844) 536-5744 and our team will be happy to assist you.