Dolphin Truck Radiators
Are you looking for premium-grade truck radiators in New York that will survive tough conditions without giving out? Order Dolphin's radiators that are heavy-duty and built to last. Our radiators are manufactured to the highest industry standards and designed to provide long-lasting cooling performance.

When you are on the move, you need a product you can trust to keep going no matter the weather conditions. Dolphin Heat Exchanger USA radiators are durable, cost-effective, and sustainable. Fit and pressure tested, each unit is 100% leak-tested, ensuring that your radiator will keep going for a long time.

For top-quality performance-driven truck radiators in New York, visit us today at dolphinradiator.com .


100% Leak-tested and Quality Tested
As one of the leading manufacturers of radiators and heat exchangers, we deeply understand what goes into the manufacturing of a robust radiator. Our units are designed using cutting-edge technology and engineered for efficiency. We have consistently innovated to ensure that we bring our customers superior quality radiators at competitive prices.
Because our products are engineered for tough conditions, we employ stringent testing procedures to ensure reliability. Thus, each Dolphin radiator has been pressure and fit tested to last the harshest temperatures and are 100% leak tested.
Leading Providers of Cooling Solutions Across Industries
In the last thirty-five years, we have delivered aa versatile range of cooling solutions that are unique in the industry. We specialize in aftermarket radiator solutions. Our radiators are used for:
Locomotive
Agricultural and off-highway segments
Construction
Automotive
Mining
Industrial
Buses, HVAC, Cores, and much more
Our track record speaks for itself, and our customers appreciate the proven performance of our products. We have a large collection of heavy-duty radiators for different makes and models of trucks, each one durable, cost-effective and efficient delivered straight to your doorstep.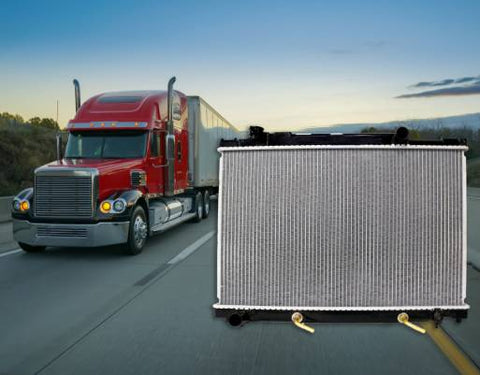 Products
Dolphin boasts a diverse range of products manufactured using top-of-the-shelf materials and through a high-tech manufacturing process. Whatever vehicle you may have, we have the radiator for you. We assure that our products are cost-effective and have high-performance.
Why Choose Us
There are a number of reasons why you might strongly consider Dolphin Heat Exchanger USA as your number one choice. We could list the many accolades we have received in the last three decades. And yes, we have won several awards in the industry. But nothing is more gratifying than the thousands of satisfied customers we have served over the years.

We could mention the superior quality of our truck radiators in New York, Or the fact that we are a pioneering organization that stays at the forefront of technological advancements and innovations. We have a reputation for coming up with sustainable cooling solutions for the industry. These are all facts we are proud of and they are great reasons to choose us.

However, the best reason to choose us is our amazing customer service. We make it easy and seamless to order top-quality radiators through our website without leaving the comfort of your home or office. We provide detailed product information and pricing to create an easier process of ordering our high-performance heavy-duty truck radiators in New York.
Buy High-Performance Radiators
We have a large collection of heavy-duty truck radiators on our website. When you order a radiator from our online store, you are assured of the following:
Radiators that are precision-built to industry standards
Detailed product info, measurements, and pricing
Quick and easy product selection using the easy-to-use search bar
Quick delivery to your doorstep
Dolphin Heat Exchanger USA, INC offers radiators and heat exchangers to B2B and B2C customers through our website. Buying a radiator online on
dolphinradiator.com
is simple and intuitive.
Order your superior New York truck radiator from our website or use our
contact form
for bulk and custom orders.