Dolphin Kenworth Radiators
Searching for the best Kenworth truck radiators? Your search has come to an end. Dolphin Heat Exchanger USA stocks a comprehensive collection of high-performance, and competitively priced radiators for various makes and models of Kenworth. We are one of the leading cooling solutions providers in the US, Canada, and South America. Whether you have a medium-duty or heavy-duty Kenworth vehicle, we have a radiator that's a perfect fit for your truck.


High-Duty Kenworth Radiators
Kenworth trucks are top-of-the-line heavy duty trucks built to take on some of the most demanding jobs around, which means they have to endure strenuous workloads regularly.
The engine of one of these beasts generates a lot of heat not only because it works hard, but also due to the fact that they are outfitted with high performance parts that get heated more often than standard parts. So why put yourself through all of this work for just any radiator? By only using the Dolphin high-quality Kenworth truck radiators you can ensure not only superior protection but also maximum efficiency.
Dolphin aftermarket Kenworth radiators are top-performance. With our comprehensive quality control checks, we guarantee consistent and excellent cooling performance for your Kenworth truck radiator. These Dolphin radiators are 100% leakproof and meet or exceed industry standards, giving you one of the best engine cooling solutions on the market today. We understand your need for a radiator specifically designed to match the requirements of your vehicle's unique engine – and we provide it.
Dolphin Kenworth Radiators: Built to Last
One of the toughest things about operating a truck is dealing with different weather conditions. After all, you have to rely on your Kenworth rig to get the job done and if it can't, well, that would be pretty bad. But don't worry because we've got you covered! Our radiator and cooling system won't just help you go through any kind of weather that comes your way but will do so effortlessly.

Nowadays, it can be hard to find a radiator that will last. But not ours! Our Kenworth truck radiators are made with copper-brass cores to withstand extreme stress for an extended period of time. We make sure you get the best possible cooling performance when you buy one of these bad boys.
The Largest Collection of Kenworth Radiators
Dolphin has a big collection of Kenworth radiators and is one of the leading suppliers in the US, Canada, and South America. Our radiators are long-lasting, cost-effective, and proven to offer a cooling performance that's unmatched in the industry. We continuously update our inventory to ensure that you can access all your cooling needs with Dolphin. We offer the latest and top-performance radiators for the following top brands: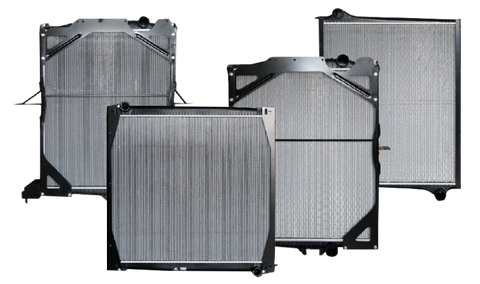 Products
Dolphin boasts a diverse range of products manufactured using top-of-the-shelf materials and through a high-tech manufacturing process. Whatever vehicle you may have, we have the radiator for you. We assure that our products are cost-effective and have high-performance.
Dolphin Kenworth Aftermarket Radiators Quality Assurance
Let's make sure your Kenworth truck has the perfect radiator. If you don't, it will experience a multitude of problems such as coolant leaks or overheating. Trust us; we want to keep your Kenworth running smooth and safe!

Dolphin has a 35-year history of selling high-quality aftermarket radiators. Our Kenworth truck radiators meet OE specifications to ensure optimal performance and guarantee's a perfect fit and will keep your Kenworth running cool at all times. If you have any feedback or queries about our products, get in touch with us and we will get back to you shortly.
Call Us Now and Purchase the Best-in-Class Kenworth Radiators
Our radiators will keep your Kenworth vehicle running cool in the harshest of conditions. Visit dolphinradiator.com today to find your Kenworth Radiator. If you have any questions or bulk inquiries, then get in touch with us. You can fill up the 'contact us form or call us on +1 (844) 536 5744 or email us at us.office@dolphinradiator.com.