Dolphin Komatsu Radiator
Were you looking for heavy duty Komatsu radiators? Your search ends right here. For more than 35 years, Dolphin has been offering Komatsu radiators for various Komatsu models. We are the preferred radiator supplier in the US, Canada, and South America.

What makes us so well liked? A reputation for high-quality, cost-effective, and high-performance radiators. Our Komatsu radiators are brand new, efficient, and will ensure that your Komatsu vehicle is cooled and performs optimally. For the best construction radiators, Dolphin is your ultimate choice. Shop now at dolphinradiator.com


Top-Notch Dolphin Komatsu Radiators
Komatsu vehicles are heavy-duty and pack a lot of power. They are used for performing strenuous construction tasks in the most gruelling environments. As a result, they can emit a lot of heat. If you want to ensure that your Komatsu vehicle runs optimally, you need to ensure that it's optimally cooled. That's why your Komatsu radiator needs to be just as heavy-duty and formidable as your vehicle.
Dolphin is the most reputed supplier of Komatsu radiators. Our aftermarket Komatsu radiators are a perfect fit for various Komatsu models and proven to maintain optimal coolant temperature. Once fitted, they'll effectively cool down your vehicle and ensure that it's performing at its peak performance. We have a vast catalog of Komatsu
aftermarket radiators
for a long list of Komatsu vehicles.
Why Purchase Komatsu Radiators from Us?
Komatsu vehicles are sophisticated and powerful. If you fit them with poor quality radiators, they wont function in peak performance and may even end up damaging the engine's internals. Additionally, they can be quite expensive. There are a lot of cheap knocks off brands selling sub-par Komatsu aftermarket radiators way below industry standards.

You'll never have to worry about your Komatsu radiator again when you purchase it from us. Our products are quality checked numerous times and performance tested to ensure that they maintain proper coolant levels at all times. They are also 100% leak-tested, meet industry standards, and are available at competitive prices!
Widest Range of Top Performance Radiators
Other than Komatsu aftermarket radiators, Dolphin also maintains a huge collection of the latest radiators for a long list of top brands. We continuously update our catalog so that you're never short of the cooling solutions that you require. We stock radiators for the following top brands:
Sandvik
Hitachi
JCB
Mitsubishi
Toyota
Caterpillar
Nissan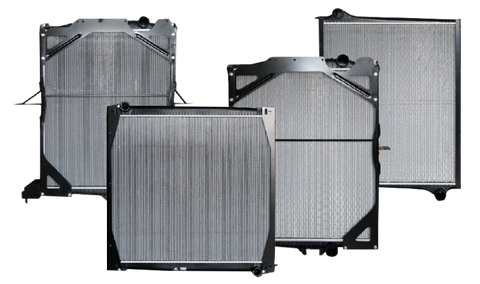 Products
Dolphin boasts a diverse range of products manufactured using top-of-the-shelf materials and through a high-tech manufacturing process. Whatever vehicle you may have, we have the radiator for you. We assure that our products are cost-effective and have high-performance.
Excellent Komatsu Radiator Customer Service
Dolphin has been providing high-quality aftermarket Komatsu radiators for a very long time. We have in-depth knowledge about every type of Komatsu vehicle, their specifications and requirements. Once you get in touch with us, we will assist you in finding the right radiator for your Komatsu vehicle.

We value our customers feedback and use it to continuously improve and excel. If you have any queries, feedback or complaints about our products or services, get in touch with us and we will get back to you shortly. At Dolphin, you're assured of superior quality products and an unmatched customer service.
Call Us Today to Purchase the Best Komatsu Aftermarket Radiators in The Market
You're just a step away from purchasing the most durable, powerful, and cost-effective Radiator for your Komatsu vehicle available in the market. Shop now at dolphinradiator.com

For bulk order enquiries, all you need to do now is fill up the 'contact us' form, give us a call at +1 (844) 536-5744 or email us at us.office@dolphinradiator.com